3 posts in 3454 days
Location: eastern Ontario, Canada
Website:
Five and a half years ago, my husband and I bought a house in need of renovation from top to bottom. I had some previous experience helping my now ex-husband but had never done any project by myself beyond painting and wallpapering. Also, I had helped a friend who was flipping houses install new kitchen cabinets.
I insisted that before we moved into our house that the kitchen had to be redone. I just couldn't live with it the way it was - an exposed vent pipe, a metal strip running the length of the floor joining two strips of vinyl, cabinets not attached to the walls and, last but not least, it was totally ugly and old (dating to the 1950's when the house was built). We tore everything down to the studs and started from scratch. It was my first experience with doing drywall. Putting it up wasn't so bad but I hate mudding. It's far from perfect but I've gotten better as I've done more and more of it. After two months of intensive work (with Christmas and packing to move in the middle of it), I had a new kitchen and we could move in.
Since the kitchen reno, we had the windows replaced and I started on the other rooms on the ground floor (other than things like hanging drywall, I'm doing this all by myself). So far, I've completed 5 rooms. With the exception of the sun room, I've had to gut them all. In the living room and dining room the walls and the ceilings were covered with plywood, that's right plywood, not paneling. Sixteen months later, I'm just about finished. I did crown molding in the dining room, a new mantel in the living room and built built-in cabinets and shelves.
My biggest frustration is that nothing, and I mean nothing, in the house is square, level or even. In some cases, things are just bizarre - eight studs in a row next to the big windows (impossible for running wiring). Then there's the door trim that's on backwards and put over tile and the list goes on and on.
To say the least, it's all been a great learning experience. I've used lots of tools that I've never used before. I love my compound sliding miter saw, compressor and nailers, drill press and router. My husband just recently bought me a new table saw but I have yet to try it.
In my future is renovating the front hall, upstairs hall, changing the location of the upstairs bath and doing the three bedrooms. Eventually, I want to make new cabinets for the kitchen, get new counter tops and tile the floor and back splashes.
Latest Blog Entries
None so far
---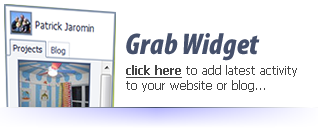 ---