19 posts in 5661 days
Location: Southeast Ontario, Canada
Website:
Hi you all,
I am here from GT and when I saw this site I couldn't help it but come and check it and as I liked what I saw, well here I am!
What I like to do is recycle...so I used to refinish furniture, antiques, garbage finds, "donations".
Now that we have downsized considerably, I still "recycle".
Our house is almost 5 years old, and still has quite a bit of work to be done. Mostly downstairs where we had the walls framed up but decided to finish is ourselves. Neither one of us is a"carpenter", but so far we have managed to finish the walls, and even put up doors and frame up the windows.
So, this here is going to be my journal on finishing the downstairs.
Welcome to my home!
-- Eklectic,Follow Your Bliss!!
Latest Blog Entries
None so far
---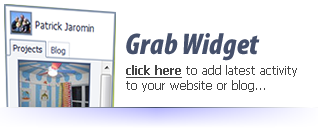 ---