If you're an LJ, then you may have already caught a glimpse of this puppy in my projects on that site. I'll do it this time as a blog and showoff some of the details and talk about the process just for you, MrTrim.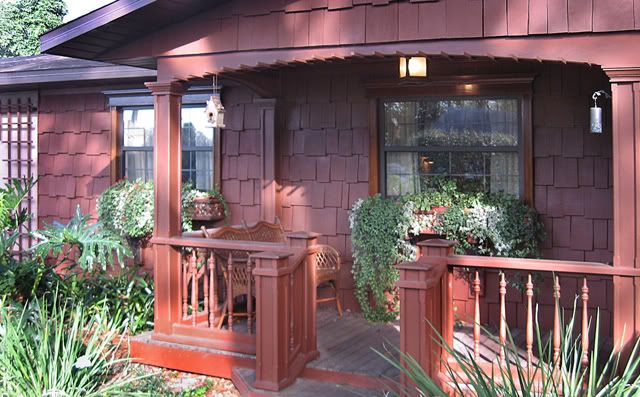 I had to build the large archway twice! A wood boring bee decided to take up residence in the first one. I had made it out of WRC and the little bugger said, "Yummy!" So I rebuilt it out of SYP this time and put in a standing kill order for wood boring bees. So far so good.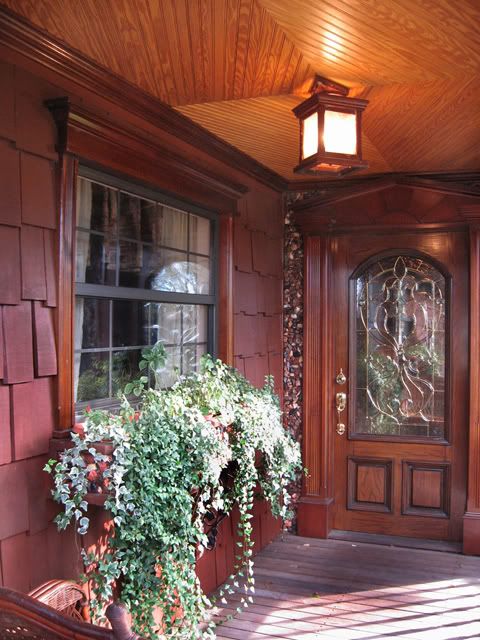 I lavished attention on the window boxes and for what? The missus just heaps plants in there and… oh well, the married guys out there understand. When she replaces the flowers, I'll pop off a few shots and post them. They really are quite lovely even without plants. Really.
So here's the door with a classically proportioned entablature of my own design. The only bugaboo with this aspect of the project was having to move the portal two inches over in order to center the design in the space allowed. Looks pretty centered… hold your thumb up and see.
You can see the rocks mama pasted to the wall where I really wanted side lights. She just couldn't wait…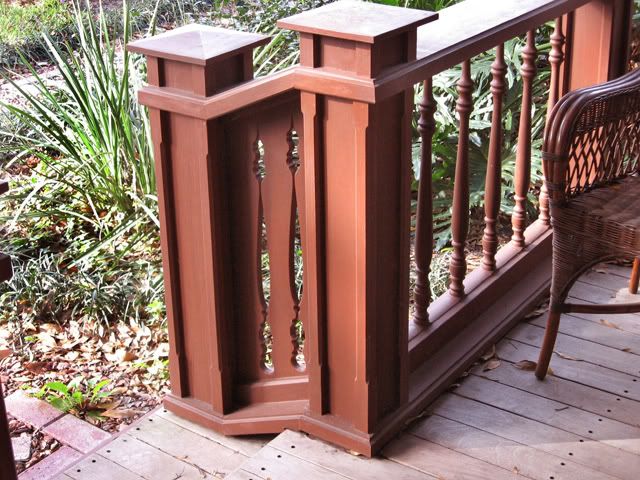 I had to overcome two obstacles here; first—the hand railing wasn't sturdy without the short descending section. So I sank PT 4×4s two feet down in rock lined holes and poured concrete collars around them. The posts are actually boxes fit around 4×4s. This hand railing is not going anywhere. Second—I ran out of spindles so I designed a pierced panel that mirrored the shape of the spindles. What do you think?
The post caps are made from 4 pcs. of SYP fit together so as not to expose any end grain to the elements. I allowed the lumber to season for over a year before the making. They've been in service for over eight years now without any separation or failure. Don't you love it when a plan works out?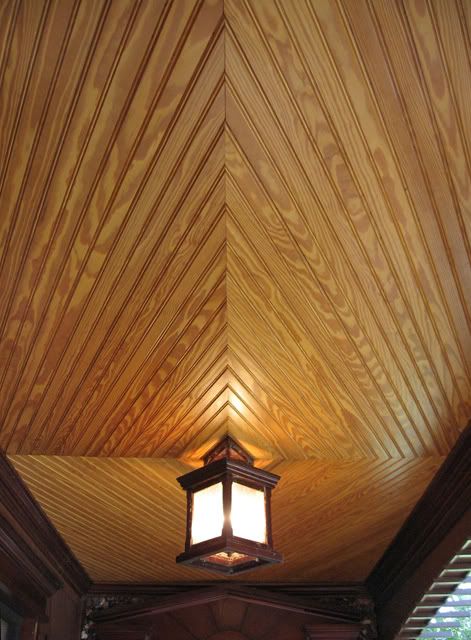 The ceiling is SYP t&g bead board hand fitted together prior to installation and then reassembled in place. The satin polyurethane has helped the wood mellow to a nice honey color.
I designed the light fixture to fit in with the whole package. I fabricated the moldings to maintain proportions and scale. Looks like I should have knocked the spider webs off first.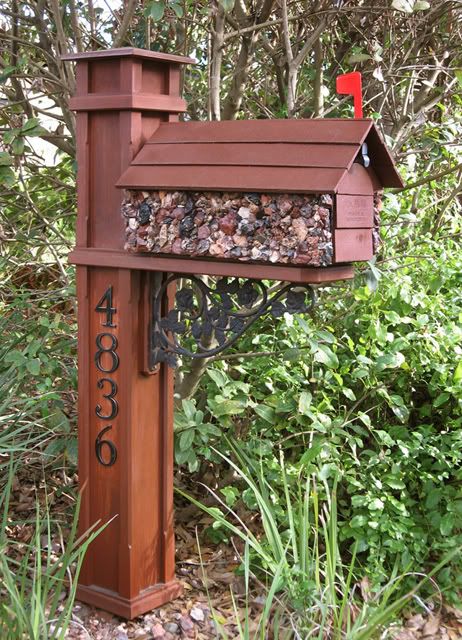 Lastly, I designed and built the darned mailbox to match too. Call me obsessed… call me crazy… call me Sally… wait… no, don't call me Sally.
-- "Imagination is more important than knowledge" -- Albert Einstein
---
---