Last night I went to the auction in the town where I live and could not believe what they had on the auction block, it was a vintage beech workbench top with a wooden vice. It didn't seem like no one wanted it so I made a starting bid of two dollars, and my bid turned out to be the only bid. So, I got this workbench top for two dollars. The top is in rough shape but I think I can bring it back with a little work and a new base.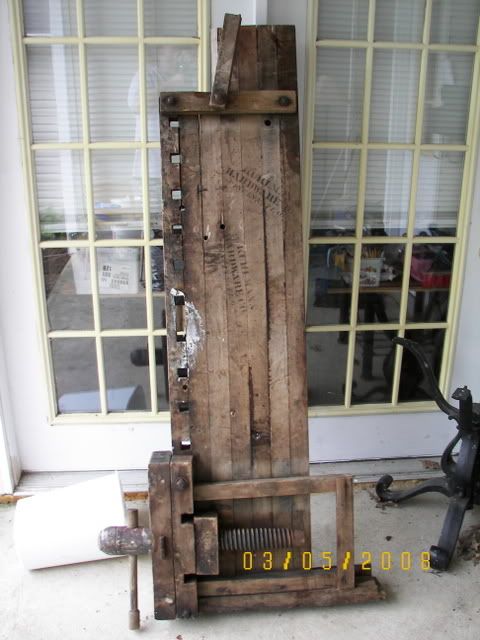 Last week at this same auction, I was able to buy an older metal seven inch vice for five dollars. Again, I thought more people would want this vice. I opened the bid for five dollars, and again, I was the only one who bided on it. At this same auction that night they sold two pieces of pine 2×4 that had several holes drilled in them and was held together with two quarter-inch bolts and wing nuts. The auctioneer called them homemade shop clamps and there was a lively exchange of bidding, and these sold for seven dollars each and there wasn't $.50 worth of hardware holding together those two boards. So I guess I'm lucky to be going to an auction with people who do not know the value of good woodworking tools.
I've been going to these auctions trying to fine some older planes and saws. Who knows, maybe I will get lucky and run across a few more jewels in the process. One can never know. I did notice they had a pile of rough sawed lumber and maybe a I'll will get lucky and get that pile of lumber at a good price
I will post some pictures of my treasures and the progress I have in restoring them. I'll keep everyone updated the best I can. I hope to start building the base and bring the top back to some kind of usable condition. Until then keep the saw dust out of your eyes.
Joey
-- Joey ~~ Sabina, Ohio http://sleepydogwoodworking.wordpress.com/
---
---