93 posts in 4833 days
Location: GTA, Ontario, Canada
Website:
HI THERE REFURBERS!!
Other than "On Line Investing" from my Home Office I'm Retired and Lovin' It!!
MANY Years ago We had a Contracting Company that did mostly Summer Homes, Design & Build (Before I was Married ..LOL..) and Renos to Heritage Homes. Kitchens, Baths, Basements, Exteriors Etc.
Now I'm a Hobby Woodworker. Most of what I make is for my Personal use, or gifts for friends. Pine is the usual wood. The Design is most often Colonial, Mennonite, Quaker or a Reproduction of an Old Heritage Piece.
Ya'll Have A Great One!!
Rick
-- Dan Walters (#2803) Do NOT Touch My PROFILE OR AVATAR!!
Latest Blog Entries
None so far
Latest Projects
None so far
---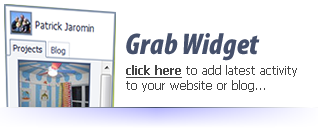 ---