I started flipping through this book, Transforming Your Kitchen With Stock Cabinetry, without any vision of redoing my kitchen, but just after a few pages I was inspired and hopeful!
The book, by Jonathan Benson (a cabinet and furniture maker) and Sherry Benson (an executive chef), not only shows a variety of different styles and layouts of kitchens, but also walks the reader through the "how-to's" of redoing a kitchen using ready-made cabinets.
Throughout the pages, tips are given as to what to do and what "not to do", ways to reduce the costs, and how to ensure you have a workspace that is conducive to your needs as well as being functional regarding actually using the space.
For home-owners who don't have the ability to make their own custom cabinets or the finances to have some made, this is a perfect alternative – installing the ready-made variety. With the inspirational photos and the step-by-step directions, the idea of a new kitchen space is definitely a possibility!
My Ratings of The Book
Layout and Appearance: Good balance of inspirations, tips and how-to photos and directions. Thumbs Up!
Instructions: Very clear and detailed. Thumbs Up!
Overall: Thumbs Up!
Win A Free Copy
To enter your name in the random draw for a copy of this book, click here and answer the two easy questions. (Hint: the answer to the first question can be found at the book's link, posted above.)
A big thank-you to Fox Chapel Publishing for donating the book for this free draw!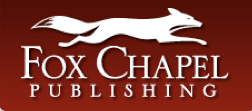 -- ~ Debbie, Ontario Canada
---
---