_This interview is from the October 2010 issue of our CreativeHands Network Newsletter
This month i had the pleasure of interviewing PABull. What an honour – and I have to say that I had to get the tissues out. It is always powerful to read people's life stories!

1. How did you first get interested in refurbishing rooms/ homes?
As a kid I tinkered with wood and as I got older I wanted to become an architect.
2. Tell us a bit of history of your journey from that beginning to where you are today
I was not the student to do the schooling for architect. I did go to trade school and became an architectural draftsman. This was all back in my home country; the Netherlands. But in 1980 I was drafted in the Dutch army and became sergeant in the Royal Engineers. 16 months later when I came out. The country was in a major recession.
I wrote 75 letters to ads for draftsmen, I got one interview and I was one in one hundred trying to get the job. So I started traveling. Greece, Turkey, Portugal, on the plane to New York (but my camera got stolen, so I was ready to move on real quick); I took a drive-away-car to New York in a Honda Civic from one of the actors of "Cheech and Chongs"; we (my friend and I) stayed on Sunset Blvd for a week or so and then moved to Visalia, where we went to work on my uncles 1400 milk-cow dairy.
After a year I moved to San Marcos (closer to San Diego) where I worked for my uncle's brother trying to save money at $6/hr. But my visa ran out and I became a "wet-back" and could no longer work for these people. So I started my own cabinet shop. In 6 years it went from a garage operation to a 6000 sq ft shop with 16 employees making cabinet doors for the cabinet makers around. But in a major down turn in 1990 we had to sell all the equipment and liquidate the business.
By this time I was married, and became a citizen of the US. I started working for my father-in-law in a greenhouse operation, growing house plants, www.twinoaksgrowers.com. In 2001, we bought the place (3 acres of greenhouses and 17 acres of property with a mobile home ready to fall apart without permit). In the mean while our family grew, we adopted some, and with a family of 16 (including our us as parents) the mobile home was getting too small.
I added and added to the MH. But the main structure was so bad that I was afraid one day I would sit on the pot and it would drop about 3 feet (it never come to this). So I drew the plans and put on my nail apron, hired a crew, and built our new home on this same property. I built most of the cabinets myself, finished the floors myself, etc. It took its toll on the business. We moved into the house in November 2008.

3. What are the inspirations that you use regarding refurbishing homes?
I love building and woodworking, my wife has the vision for the details, but the real drive is "necessity", with a larger family.
4. What are the greatest challenges that you have met along the way? (and how did you overcome them)
I always tried to keep the mess to one room. Don't take more apart than you can fix, it's not fair to the rest of the family.
5. What is the greatest reward that you have received from refurbishing homes? (personal or tangible)
The biggest reward is a one liner I get from my wife on a regular basis:" it is so sexy to have a handyman as husband".
http://homerefurbers.com/projects/108
6. What is your favourite tool that you use for refurbishing homes?
My favorite tool is my 9 1/2 "Stanley block plane (see forum discussion)": http://lumberjocks.com/topics/4409, I bought on a garage sale for $2.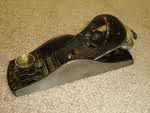 7. What is your favourite creation in refurbishing homes?
My favorite creation is the little master bathroom vanity.

8. What tips would you give to someone just starting out or currently struggling with refurbishing homes?
I think that the trade of HR for men is like knowing how to cook for a woman. (Don't take me wrong, I realize this could be reversed too! And this could be very sexy too)
9. How did you find HomeRefurbers and what is it that keeps you coming back?
I have not been enough on HR, but it is nice to show off your work to your peers and get a compliment and, if you are looking for a solution or to ask others how they would solve it. And along the way helping others become better craftsmen.
A Project At GardenTenders.com

-- ~ Debbie, Ontario Canada
---
---