4 posts in 4437 days
Location: Solvay, NY
Website:
I am not new to to home remodelling. I have worked in construction off and on from high school untill I graduated until I got out of the Marines. I did do stage craft my junior year for school productions And framing and siding as side jobs while in the military.
I went into the Marines straight after High school where I started helping friends build shedds and barns. I did alot of framing, and even helped a friend restore a 26 foot boat.
I moved into a small house and decided that granny stuff/decor was way dated. I bought a crap load of tools and got started. After 6 years of remodelling/renovations and a few natural mishaps (sewage pipe breaking, furnace giving out, faulty, old wiring that had to be replaced or rerouted, and a windstorm that caused a lot of damage)! I managed to get both floors and landscaping finished. Just in time to have two babies and have to start all over again.
I was forced to retire in 2007 at age 32, due to my injuries, and be a stay at home father.
Now, I have time to spend with my kids and occationally redo a room or two. Besides I would hate to see all these pretty tools go to waste.
Please any and all comments are welcome and encouraged.
-- Semper Fi, Randy Sr
Latest Blog Entries
None so far
---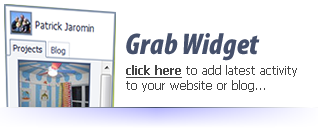 ---