Not too interesting today, just finishing off the demolition – now the chimney is completely removed – it is surprising how much material is in a chimney.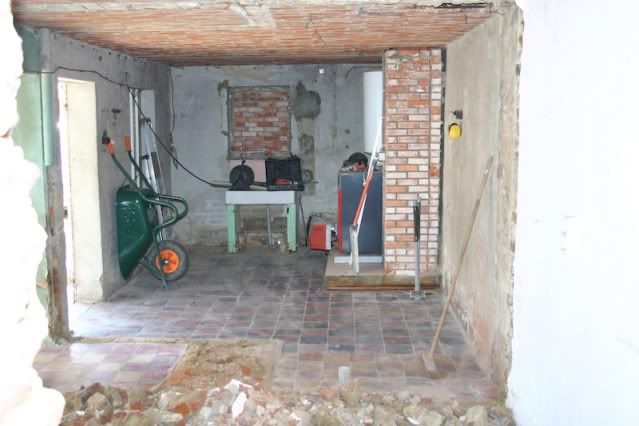 The photograph now shows how much useable space we have gained.
The old toilet caused some concern, this was just a small hole in the floor – or at least I though – there was some water in the hole so I decided to pump this out, before filling in the void with rubble. Well 1 hour passed ant water was still coming out, I estimated that over 1000 litres (260 gallons).
When I became brave enough, I held my breath and put my head inside the hole, with the help of a small torch, I discovered it was not such a small hall (something along the lines of St. Paul's Cathedral of holes).
The void is under most of the yellow & Red Tiles towards the door entrance. I will investigate this tomorrow and open the hole up to ensure it is filled correctly, before capping it with concrete.
By the way I borrowed a 1000W SDS drill with hammer action only to try it out on the remaining demolition today – I wish I had this yesterday – If you have some demo work to do, I would defiantly recommend using a 3-function SDS – it saves a a lot of time and sore muscles.
Well that was the mornings work – in the afternoon, we had a specialist visit regarding the rising damp problem in the kitchen and utility room, well 2 hours went by then we received the shock (not the mount of work to be done, I already had guessed that) – the price is WOW, but there again it is understandable, as the rep was driving a new BMW 5 series.
That's it for today -tomorrow filling the hole I am going to make
---
---