I tried to have a nice relaxing weekend, but on Saturday I helped my Son-in-Law with a little work, the demolition of a garage – I was totally "Kaput" by the the end of the day, Sunday was good – washing clothes, moving the iMac and doing some needed administration work.
So this morning I felt full of vigor and strength – that soon disappeared after re-starting the excavation work – well I did make some progress, as shown in the photograph. I need more protein – maybe a nice big steak, but living on my own at the moment, no time for shopping or cooking – just opening a can or packet, if I have the strength at the end of the day!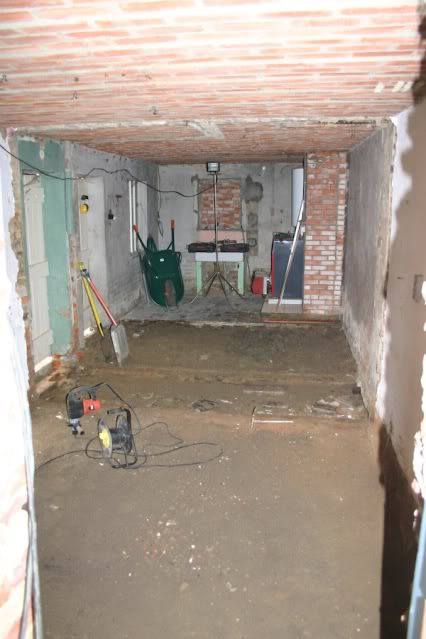 Tomorrow I will definitely finish the excavation, then I have to workout where the hot, cold & waste water lines will go, also the type heating to be used. Once those lines have there "first fit", I can then start the process to seal the floor.
The specialist will arrive on the 7th September to waterproof the Utility room and Kitchen – so things have to keep on moving in order to meet that deadline.
I have now got to get some materials in, which is easier said than done, as I still do not speak any Dutch/Flemish.
By the way, you can see the B&D SDS in the foreground – this is a definite "must have" tool for this type of work, although they say it only for light chipping, it works real good on thick concrete.
---
---