I am guessing by now that this part of the series is getting a little boring for you all to read, I can assure you that it is getting to me to.
Apart from informing you of the progress, it also acts as a record of my work, should building inspectors need information and lastly and probably most importantly – I am able to keep my wife informed of the progress of the work, as she is still in Finland, some 2000 km (1250 miles) away.
Well today I finished the demolition and ground work in the utility room and was ready to start fitting the waste water pipes. I located the sewer lines both input and output.
The output is against the far wall to the left of the photograph (marked with some water pipes against the wall), whilst the input is to the right of the photograph against the utility room wall (corner) – Ahg! things are starting to come together. The sewer pipe is clay/ceramic, so should really be changed to come up to building regulations.
So I moved into the boiler room and started to remove the tiles and made a hole in the far wall (a new door will go here) to accept the 3" pipe.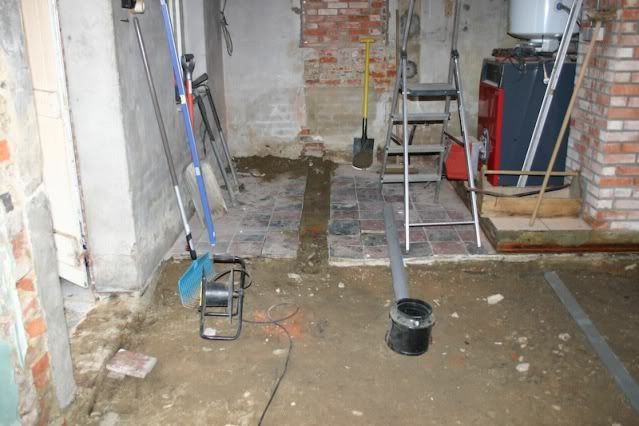 Then I struck something hard, a brick, OK I thought, I can break that out, then I continued to clear the rubble under the removed tiles, and I found more hard stuff (concrete), as I cleared the area a little more, it appears to be a tank of some description.
I am guessing that it runs the width of the boiler room, it is definitely hollow, I am not sure how to proceed with this one.
Any Suggestions My heating oil tank will be mounted above this obstacle, the weight full is about 1.3 ton (2900 lb). I am considering drilling a hole (1/2") in the top, just to see what was/is in there, and maybe how deep it is. But I am frightened as to what I might find. I do not want to pour in tons of concrete, especially as all the rubble from the build so far has been disposed of, so I would have to put in new material.
If I leave the "tank" in situe, then I have to re-route the wast pipe and because of the gradient, I will have to run in a new sewer line.
Some good news today, the price of ready mixed concrete is a lot cheaper than we were originally quoted.
---
---