Monday:
Basically I took the day off, trying to recover a little after the really heavy weekends work. I have arranged for the concrete to be delivered on Thursday morning for the utility room floor.
Unfortunately because of the state of the entrance (due to the new pipes being fitted, the concrete truck cannot get get to within 5m (15') of the house, and the thought of wheel barrowing 4 cubic m (140 cubic ft) did not appeal to me for some reason! So I had to hire a concrete pump, which is not cheap, so I decided also to level entrance outside the front of the utility room also, which brings it up to 6 cubic metes (211 cubic ft), but I will save about 250€ ($320) from next years budget.
Tuesday:
I had to build a dwarf wall around the existing concreted area, not so pretty, but it is functional, it also used up a lot of recycled bricks I had recovered from the demolition of the utility room. It is surprising how long it takes to do such a small amount of work, when you are not a professional. The floor is perfectly level alongs its length and will be exactly the same height as the inside of the utility room. But across its width, there is a 19mm (¾') drop, to allow water to run away from the house.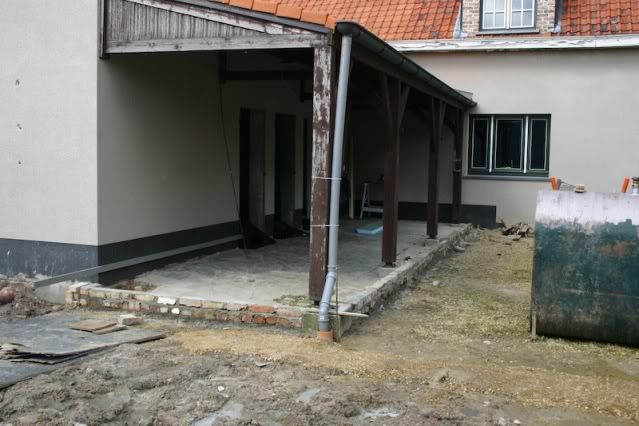 Additional area to be concreted
Wednesday:
I fixed the guides to ensure a perfectly level floor outside the utility room.
Spayed the polyurethane between the kitchen doors and the walls (I just have to wait for it cure, before trimming it).
Made the final preparations for the delivery of the concrete tomorrow, which included laying and fixing the plastic sheeting to ensure a waterproof slab.
Lastly I started to remove the plaster board, ready for the damp proofing engineers next week.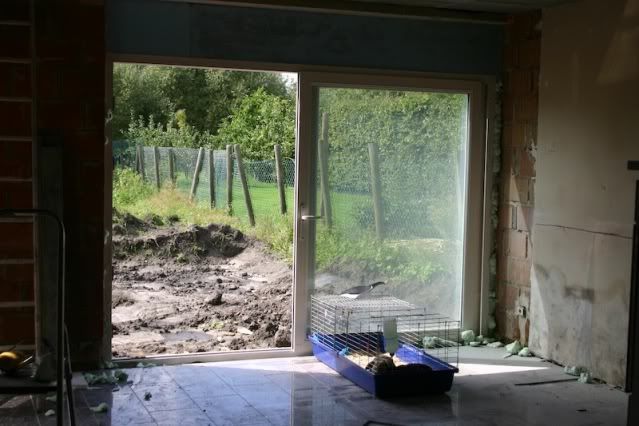 Window is now sealed against the wind. Note: I have gained some company (2 bunnies, belonging to my granddaughter.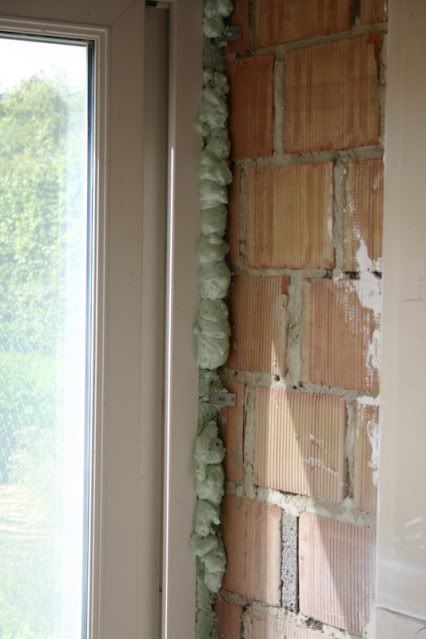 This foam is really good for excluding the drafts, I still have to seal the outside of the door frame to the the wall with mastic.

The utility room ready fro the concrete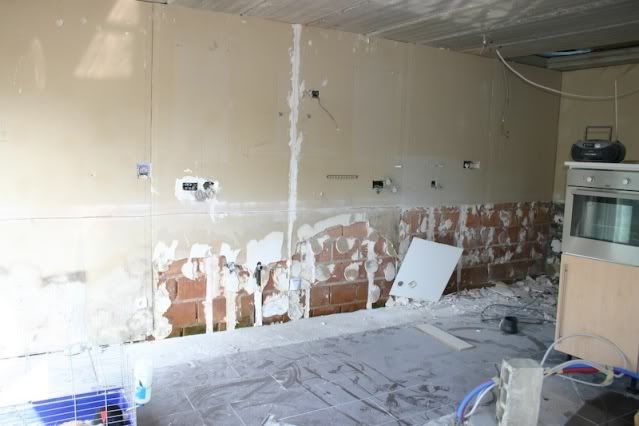 I only needed to remove 30cm (1') for the damp-proofing, but decided to remove 1 m (39"), to remove any trace of the black mould that had started to grown on the damp plaster board.
Thats it for today, ready for leveling to floors tomorrow.
---
---