Thursday: Was concrete day – the pump arrived at 07:30 – it was huge with a 36m (120') boom, the concrete arrived at precisely 08:00. At 09:30 we were drinking a coffee and having a cigaret.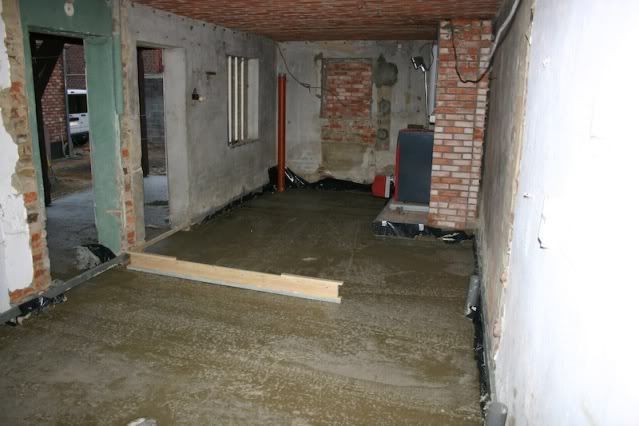 It really went a hell of a lot faster than I thought it would, but both drivers and my son-in-law pitched in to help and it went quite smoothly (more than can be said for the finish). In that one and half hours I expended a huge amount of energy and I am now totally "KAPUT" – luckily I have to baby sit for my granddaughter this afternoon, so I can recover some energy.
Friday: The concrete has hardened enough to start laying the first 4 courses of blocks, which will block the two redundant doors.
I also managed to get the excessive soil removed behind the kitchen wall, thanks to my son-in-law.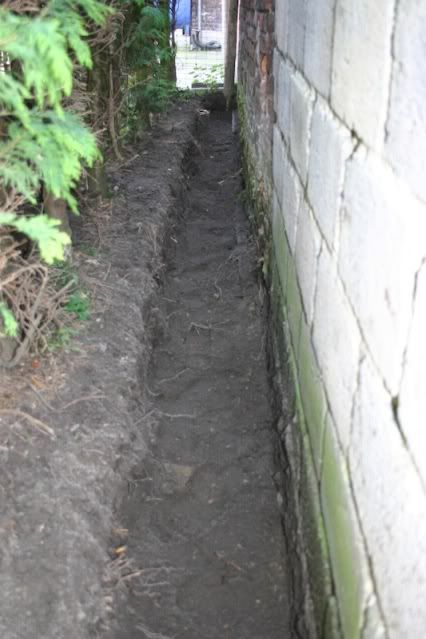 This shows the height (15") we had to dig out to get to the internal floor level – no wonder the walls were wet and moldy.
I also managed to get a little more cleaned up after the pipe laying last weekend – this is really heavy going moving baked clay.
---
---