Today I managed to support the roof where the chimney had been removed.
I wanted to ensure that the roof would not move, as I did not have the necessary thickness of stock needed, I decided use a torsion box.
I then used similar stock and spacers to create a vertical section to support the Apex beams.
When the metal supports were removed, the deflection was measured very accurately and was less then 1mm (a little less than 3/64").
Here is a view of the space created – I still have non-structural timber to place above and below the tortion box, so that I can attache the plaster/Gyps boards (sheetrock).

I then moved onto the Gable-end wall I mentioned yesterday – once the sheetrock was removed, I discovered that the brick wall was only supporting the Apex beams, so I will use a similar timber frame construction to support the Apex beams.
This was hard work removing the brick, which are extremely hard, the mortar used was also extremely hard and challenged the SDS (I think they got the mix wrong 5 parts cement, to one of sand ;) )
I also managed to remove the metal balustrade this morning, I was going to reuse this outside, but it had been built on site and there was no way to remove it safely without cutting it into several pieces.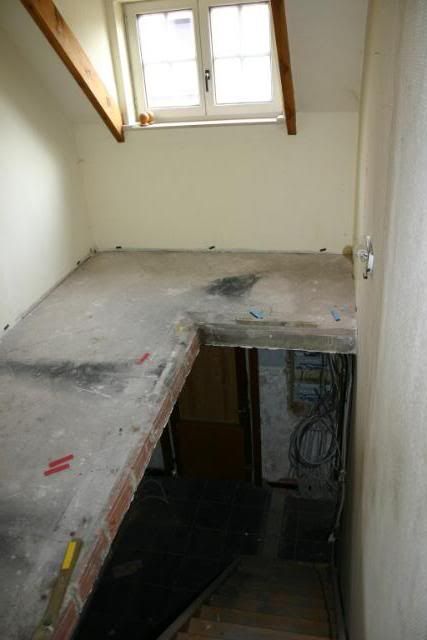 This last photograph shows the bricks used for the floor/ceiling in the hallway – I will give you a better understanding of how these are self supporting, when I demolish the floor next week.
That was todays work, with thanks to my son-in-law – could not have competed any where near half of this on my own.
---
---