Not too much achieved this weekend
The framing of the the first two walls is complete.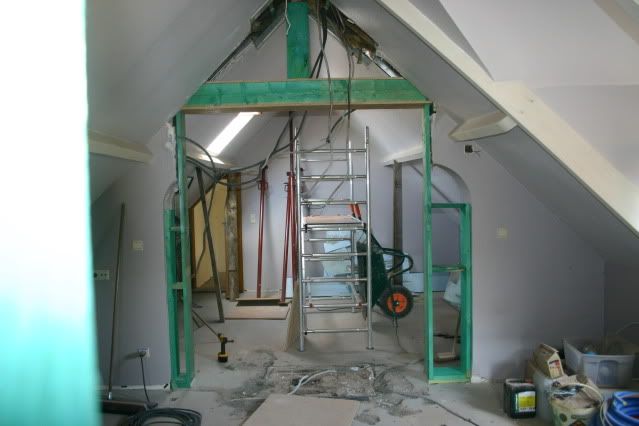 The framing of the chimney wall looks asymmetrical, that because it is. the pitch on the roof on one side is steeper than the other, hence the central beam is not central to the room.
still when it is insulated and the plaster board goes on, it will look symmetrical (I hope), especially when those curved parts of the wall are covered.
This is the bedroom wall now demolished and framed.
The main vertical support is 2×50mm x 150mm (2" x 6") nailed together, the remainder of the material used 32mm x 170mm (1 1/4" x 7"). the 45 deg braces are just to stop the upper vertical from moving – the new roof in the bedroom probably does not need any gable support, but the older roof definitely does – they are two totally different construction methods.
The view looking into the bedroom – the steel pipe on the right side of the doorway, is the approximate position of the new chimney to be installed later in the year.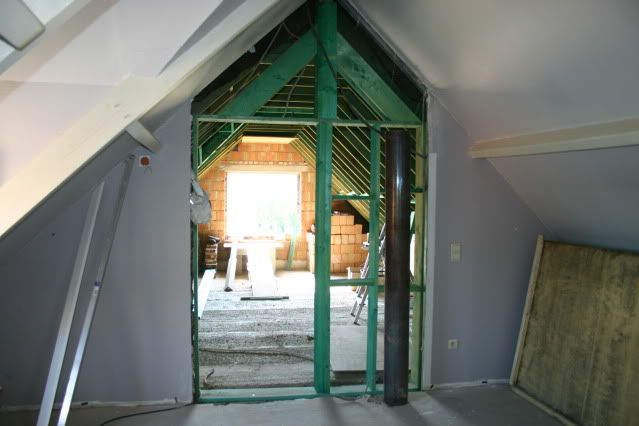 This is a strange thing to say, but the extremely good weather has stopped work – it is just too hot" For the last week it has been hovering around 28 deg C (82 F) with temperatures greater than that in the uninsulated roof space. I also have to remove the pile of bricks outside the kitchen doors, before I add any more, it is just getting too big.
Cooler weather forecast for the middle of next week, even with a small chance of some rain next weekend (please) :)
---
---