Not a huge amount undertaken in the last couple of days, mainly cleaning up, a little more demo work on the garage, and made a start on the patio.

All the concrete blocks used so far have been recycled from the garage – they may not look very pretty, but as they are only for a retaining wall, which will buried in soil and covered in flowers, strength in more important than appearance.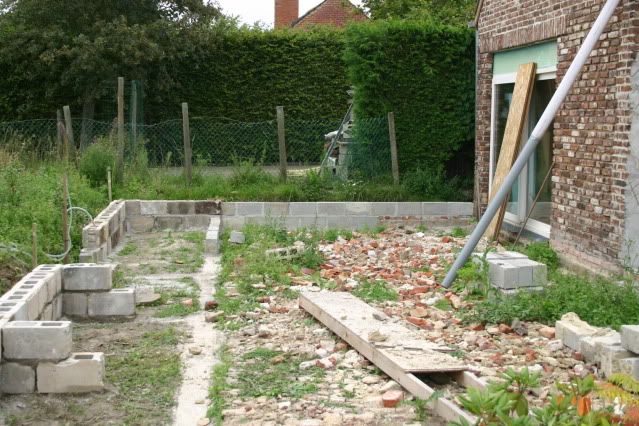 Any of the blocks that are exposed to patio will be faced in a nice stone.
It may look like we are jumping from one job to another and not finishing any thing off – well that is correct. The main reason for starting the patio now, is that we can use the recycled materials immediately, which keeps the working area free and stops a lot of double handling ( I mean by hand not machine) of heavy materials.
Tomorrow a little more demo work, disposal of some waste materials at the recycling centre and preparation for the removal of the celing/floor and stairs from the main house. The stairwell is the the last demo we have to do. The rubble from this last demo can be added to the existing pile of rubble, then this can all be taken away in one go (cheaper). With the demo finished we can then start to put things together at long last.
---
---