14 posts in 4899 days
Location: new berlin,wi
Website:
Husband is the builder. I'm disabled. We both colaborate on how we want the project done. Cost is always a huge factor. We try for the best price on everything. Husband says he's going to write a book on building a house during TV commercials. lol
In the '90s took a 3 bedroom 1 bath house, and made it handicapped friendly. Moved the front and back doors. Upgraded wiring with help of an electrician friend. Put in central air with the help of a H/AC friend. Refoofed completely and resided it all. Didn't use best quality shingles at the time. Re-roofed with friends again 2 years ago with the best shingles. It really pays. Others didn't hold up and both of us disappointed. Live and learn.
Added a bathroom with higher toilet, shower.
A walk in cedar lined closet added to the master bedroom after expanding that. Made a laundry room upstairs .
Took old tub and sink out of main bath. Replaced all plumbing and put in whirlpool bath, high toilet and a sink.
The old attached one car garage became our living room. 1 step down but with the snap & lock wood floor, I can handle that. Added our old picture window to the front of our new living room, 2 basement windows up top at the other end. Glass panel door to outside makes the room bright . 2 doorways into living area makes it not boxed in. Wood flooring put in the house one room at a time. Snap and lock in place. Great!
Just redid the kitchen last year gutting the whole thing and starting from scratch.
Husband built the cabinets himself out of spalted oak. Just lovely!I picked the wood, of course! Rockler slides on all drawers and pull-outs. New counter, and sink. Wood cutting board to side of the stove. Pullout for garbage and re-cycleables. That is one thing that I really love. Made a shallow drawer for Ziplock bags, waxed paper, etc. in that pullout in wasted space above that.
I choose a speckled green and black formica countertop in a granite like finish. The kitchen is cream with a double window over the sink that looks out into the back yard. It's a feeling of the kitchen and backyard being one space. Definately my favorite room! Flooring was a sheet of linoleum/higher quality vinyl that we just happened to luck into as it goes with the kitchen cupboards and counter. We couldn't afford stone tiles, and wouldn't put it in without radiant heating under it anyway.
We have a new furnace and water heater to be put in later this year.. The water heater is one by water usage.
Husband made a brick walkway around our house so that I can get around with my walker.
He built a log cabin style playhouse for our grandson and is working on another to sell.
Just put in a retaining wall this fall on one side of our property.. Still the back area needs some work, but we are getting there.
I can't do the heavy work, but we figure out how to do/make things with the space requirements and tools needed for the projects.
My husband is the Rockler and tool junkie. I am the wood junkie, although we both love looking for new/unusual wood. He would be in heaven in a wood store with unlimited $. For Home Improvement we personally keeps Menard's and Lowe's in business I think.
Designs for dressers, hope chests and clocks he draws out. Then it's the right wood, finish and hardware. That's me. I know what I want I guess.
Well, I choose all of the plants for landscaping too. Husband digs the hole, I plant. It's coming along nicely.
Had copper pipe left from his Dad's plumbing that was passed on to us. Put that to good use building 2 arbors in the back yard.
Trying to make/create more things...what's next?? List is long!
-- birdladynb
Latest Blog Entries
None so far
---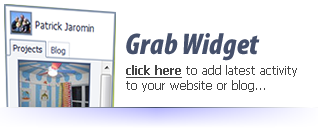 ---