12 posts in 5653 days
Location: Loudoun County, VA
Website:
Greeting All, Decided to join up over here as an extension of LumberJocks as well. The house you see in our icon is the one we currently own and have been working on since we bought it 3 years ago.
The house was 13 years old when we bought it and the former owners only work had been to paint the hall bathroom, and begin to work on the basement. Since then all the rooms but one have been painted mostly by my wife and we hired a contractor (since at the time I did not have the skills) to redo the entire kitchen and build a deck. I could not believe they lived her for that long and had no access to the backyard the saftey rail was still up. I ripped it down the first summer and put in a temporary set of steps so I could walk out the kitchen door in order.
I have since started working on tha basement and finished my shop as posted on LJ's and working on the other rooms, we are also planning to reorganize the garage so that project will more then likely wind up here soon.
Talk to everyone soon.
CtL
Latest Blog Entries
None so far
---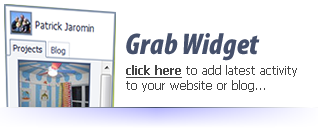 ---