Among the amusements of having the wall around the tub out, this instance where someone missed the stud for an entire row up the button board. I have done this once or twice, but never for the whole damned row, and especially never where I was driving the entire row by hand (I'm pretty sure they didn't have button-board/drywall nail guns back in 1947…):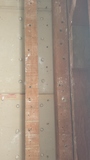 Insulation and blocking for the new tub was installed: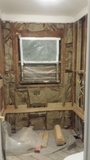 And… when we first ordered the tub, we thought that we were going to pick it up, and build a system of ramps and dollies so that my sweety and I could get it inside and in place. We then had a conversation with the owner of North Bay Kitchen And Bath, in which it became clear that the right way to do it was to have a couple of folks deliver it. Between those two discussions with two different people, the guys who came to deliver it had a mishmash of instructions. So they arrived without a lift gate on the truck, we had to tilt the crated tub off on to blocking, and then the two (not three) guys and me had to carry the thing and set it into place. Which we did, all 350 lbs of it: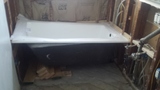 .
We later used levers and blocking to pour a mortar bed on the floor, and lower the tub into the mortar bed.
-- Dan Lyke, Petaluma California, http://www.flutterby.net/
---
---