35 posts in 5552 days
Location: 143 Riverwalk Place, Rockwood, ON, Canada N0B 2K0
Website:
I am a retired teacher, and now just recently retired from working in the jewellery business. For the past 35 plus years I have lived in Rockwood, ON and enjoyed working in my workshop and also my perennial garden.
Several years ago, we moved to a new freehold luxury townhome situated above the river. We love it here, with a protected mixed wood stand between us and the river, although I can usually see the river between the trees. There are trillium and natural orchids growing in this bush, as well as trails that wind for miles along the river. Beautiful.
I have a smaller workshop here than in my last home. I had to sell my lathe, but kept my table saw, and most other tools. Unfortunately, my workshop also shares space with the furnace and similar utilities.
I took my unfinished basement, and built in a nice bar area, two wine cellars for my 600+ bottles of wine. ( strictly for mediciinal purposes, you understand LOL ).
This past year, I moved my fish pond into a raised bed structure with the pond and fountain in the middle into which I put 3 differing water lilies. The gurgling water makes a relaxing sound for us when we are outside. We get a great view of it when we sit in front of the outdoor fireplace with the dahlia hedge on each side of the fireplace.
-- jroot
Latest Blog Entries
None so far
---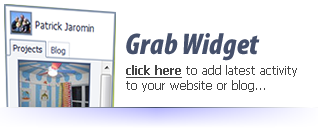 ---