10 posts in 5200 days
Location: Rockville, Maryland
Website: http://www.geocities.com/meiliemh22/
Our search for a home had a few basic requirements: I wanted a house with large windows for houseplants and a garden to do as I wish. My husband wanted a basement wood workshop with a walkout door for easy access of large equipment and projects.
The realestate agent had 30 listings to consider, we looked at 10 possibilities and settled on one that had all of the demands we requested. We looked at these in one day, found one and settled in 30 days.
We purchased our home as a "Fixer Upper" - a 1950's circa rambler with a large bay window and a clay/quartz riddled yard that was a rental for some 14 years and had barely a renovation or upgrade since it was built. The full basement has a walkout door and some windows and the original bath was meager and scary to use (rust, crud, dust, etc.). This has become a wood workshop, garden/pond work area, laundry, storage and gym.
Tiling: Besides a 3 hour class at The Tile Shop, I'm self taught and started small by tiling the front door entry with unusual tile I inherited from m Dad that were made in Japan. Then, I tiled the bay window platform to prevent water damage from my houseplants and built my knowledge and courage up to tile two baths and the kitchen. The first bath was done with the assistance of a pro, as it was more project than I was ready to handle alone. The original shower stall was rusty and filthy, a real nightmare and come to find out, it was illegally installed, the plumbing was not correct so I had to have the drain dug out and properly installed to prevent backup. Half of my budget went for this, but it was worth it.
The kitchen was a 1950's disaster, water damage had eaten away the sink counter, the upper cabinets were painted shut and they had what looked like hubcaps for handles so you couldn't do a superficial fix up by putting new handles on, as removal of the old fixture would leave a 2-3" hole. They were sturdy, but mudd uggly. During our 3 month self-remodeling project, they were removed and recycled. They are now in the basement woodworkshop being utilitarian. Despite the smallness of the kitchen (12' x 20') it was a major job for do-it-yourselfers who had regular jobs to pre-occupy us. Had we been able to work full-time on the project, I think we could have accomplished it in one third the time or less, but our finished project is functional, sturdy and aesthetically decent. Not to mention the thousands of dollars we saved on labor. I tiled every evening after work until midnight and on weekends, my husband built the cabinetry.
The upstairs bath is my pride and joy. It took several years of designing and accumulating the right appliances and pieces and the design all came together in the last months during installation. I wanted a bath that would be beautiful and classic, as I was not intending on doing this again in the near future (or this lifetime). I used found objects and cut granite pieces for my design and hunted online and local sources for my fixtures and materials to keep costs down.
The garden has a multitude of beds, each with it's own variety of ornamentals and edibles. I also built a small koi pond (1500 gallons) and now it's too small, but removing the 11 large koi and excavating a bigger, deeper pond is more than I can consider right now.
Each project has had it's unique experience and teachings. You really never know how something is made until you tear it apart, and then create it again with your own two hands.
Being a homeowner, there's ALWAYS another project at hand, but time, money, and "gumption" are not always available at the same moment, so tomorrow brings another adventure.
Please visit my website and you'll see some of my antics. My most current project is my cane making business, as I have taken over my husbands' wood workshop since he's not using it much, so maybe he'll come down and work more or just chase me around the tables . . .
http://www.bigstickcanes.com. More projects can be viewed at the sister site: http://lumberjocks.com/jocks/mmh/projects.
-- "They who dream by day are cognizant of many things which escape those who dream only by night." ~ Edgar Allan Poe
Latest Blog Entries
None so far
---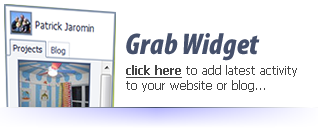 ---