---
I had planned on doing our stairs but not painting the hallway due to the high ceilings but a water leak from 2nd floor to firs floor said otherwise. Anyways,after fixing the leak, drywalling the ceiling etc I decided to do the whole thing. Finally finshed and have some time to post before getting back to the bedroom renovation.
So here is what I did:
1. Ripped out ceiling drywall, removed dead huge wasp nest. (Now we know where the wasp were coming from). Put in insulation and drywalled ceiling.
2. Removed 35 year old carpet on beautiful oak stairs. Stairs had some water damage from another water leak years ago.
3. Sanded, bleached (try to get rid of tanning and water stains). Stained oak stairs to red oak, filled in nail holes with matching wood filler. Yes, i used wood filler afterwards and not before staining cuz not sure what color stairs would eventually turn out.
4. Poly'd the stairs with MinWax Fast Drying Oil based Poly. NOTE: This stuff is NOT Fast drying. After applying one coat to every other stair, it took a week to dry. I found out the due to EPA rules, the Poly is made so the vapors will not evaporate fast or something like that so it causes a longer drying time. Also found out to thin the Poly with Mineral Spirits about 20% first. But that still was a bit slow so I would recommend thinning about 50% and applying very very thin coats.
5. Replaced old crystal chandelier and touched up. I also cut hardboard, painted them white and covered the stair risers.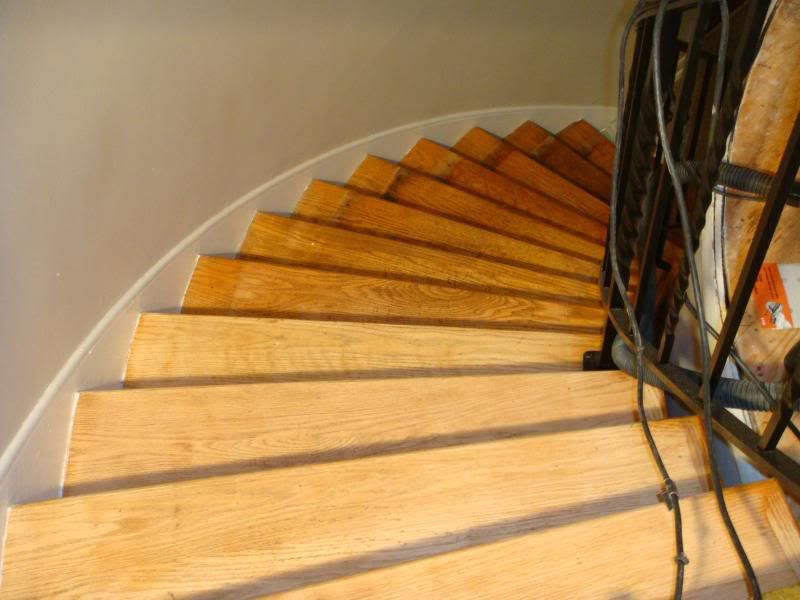 I am my worse critic, but everyone else likes what I did so there ya go. I posted some before and after pictures. Comments plz. (but be gentle).
---
---

---