---
I wanted to make something rustic so I used old barn board for this mirror, it was 1" thick. I left all the worm holes, although I cleaned them out thoroughly. I lightly sanded the wood to clean it up a bit, but tried not to get rid of the character. I even left the angled bottom and top, although that's hard to see in the photos.
The mirror was a basic 12" x 12" dollar store mirror.
The first thing I did was make a dado across the bottom of my four boards that was the thickness of the cross piece. This way the cross piece (shelf) will sit into the groove and there will be less chance of anything twisting.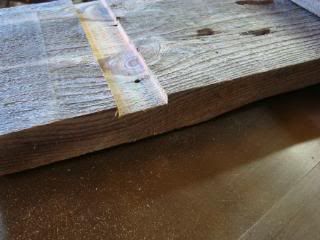 Here you can see the dado across all the boards: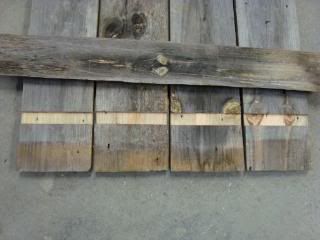 and here is the cross piece/shelf sitting in the dado:
I left about 1/8" spacing between the boards and screwed them in from the back: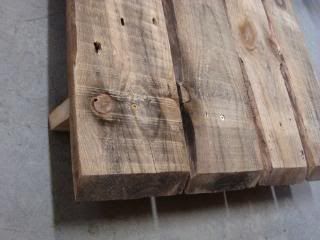 I took off the thickness of the mirror plus about 1/16" from the inside edge of the frame, this way the mirror sits half under the frame.
In order to frame the mirror I cut up some barn board into 1" square pieces with 45 deg. ends and long enough to frame the mirror.
These are the four frame pieces:
I screwed on a top 1" x 1" cross piece from the back as well as the mirror frame.
I stain any place where there are new cuts that look lighter in colour compared to the old wood. I use a mixture of vinegar and steel wool left overnight in an open jar and add water to that. Then I test on scrap wood for the right colour, sometimes adding just a little blob of either brown or black paint.
Here's the finished mirror:
This is a very heavy piece, it measures 23 1/4" across and is 30" tall.
---
---

---